ON-DEMAND HAIRSTYLING & CUTTING TUTORIALS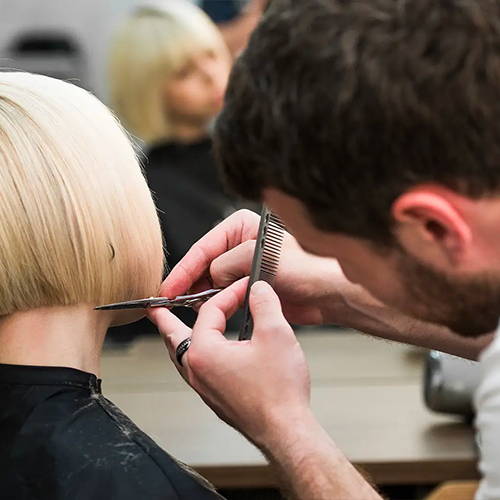 HAIR CUTTING GLOSSARY OF TECHNIQUES
Download these definitions for 18 commonly used terms for cutting with scissors or razors.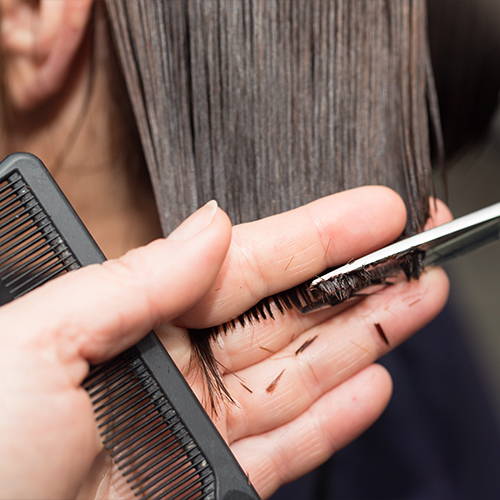 HAIR CUTTING BEST PRACTICES
Incorporating these methods into your daily salon work will help you achieve the best possible results with ease, speed and precision.
---
Q: What makes Aquage products unique?
A: Every Aquage product is custom blended, meaning that the active ingredients are formulated to perform powerfully while maintaining the lightest possible molecular weight. This is what allows the user to layer on product generously without experiencing flaking or buildup.
A: Is a proprietary blend of Sea Botanicals complex that will help remedy the widest range of scalp and strand issues. From Dandruff and dry locks, to limp, lifeless damaged strands, these natural, organic powerhouse plants have got you covered. Algaeplex is found in all Aquage products.
Sea Botanicals found in Algaeplex:
SEAWEED – A powerful strength building hydrating protein for the hair. Its packed with vitamins, minerals and fatty acids which hydrate the scalp and while replenishing vital moisture from scalp to dry ends. As a side effect to the extreme moisture replenishment, limp lifeless hair becomes full of body and vitality! Natural curls and waves gain an extra bounce, and damaged, over processed hair becomes hair benefits from major repair and even hair thickening.
ALGAE – Loaded with Omega -3, omega -6, iron, zinc, iodine. The omega rich nutrients, algae is most commonly used to aid in thickening and boosting hair growth. Amino Acids and fatty acids help soften hair, improve strength, hydrate the strands to lock in moisture.
KELP - Triple threat of hydration, repair and toning! Packed with vitamins, minerals, amino acids and macronutrients. Iodine, potassium, iron in sea kelp serve as a perfect scalp treatment for cleansing and toning. Kelp is a powerful natural cleanser, removing scalp or product build up, and even treating symptoms of dandruff without drying out the strands. The rich blend of nutrients and antioxidants helps to strengthen the hair, mend split ends and prevent further damage, leaving the hair stronger and more resilient.
Q: What is the difference between the Aquage classic line and the Aquage SeaExtend line?
A: While all Aquage products consistently better the condition of the hair thanks to Algaeplex Sea Botanicals, SeaExtend takes the healing benefits to the next level! All SeaExtend formulas are sulfate, paraben and sodium chloride free while offering a 4-way color protection! This is the luxury line that every color-treated client should use as their go-to cleansing, styling and finishing regimens!
Q: Can I "cocktail" or mix my favorite products together in my hand before applying to the hair?
A: In general, we recommend to layer not cocktail products into the hair. The reason for this is if you mix 3-4 products in your hands before applying to the hair, you can't promise that the same ratio of product has been evenly distributed from one side of the hair to the next. This could lead to extremely uneven styling results. The one exception to this rule is SeaExtend Silkening Oil Treatment! When you add Silkening Oil Treatment into any base product, especially an extremely high-holding gel or mousse, it will lower the hold factor and intensity while delivering the benefits of the oil and the SeaExtend line itself!
Q: Is there a color-coding system to the Aquage line?
A: While not every product perfectly fits into one category, in general, you can use the 3 SeaExtend Shampoo & Conditioner regimens as a guide! Those 3 regimens are Volumizing (in a green bottle), Strengthening (in a dark blue bottle) and Silkening (in a lighter blue bottle). This means that:
GREEN bottles = VOLUME

DARK BLUE bottles = STRENGTHENING/STRONG HOLD

LIGHTER

BLUE bottles = SILKENING
Q: Will Aquage Sea Salt Texturizing Spray dry the hair out?
A: Most budget sea salt sprays contain tiny sea salt grain molecules that can penetrate the cuticle layer, drying the hair from the inside out. The Aquage Sea Salt Texturizing Spray is infused with magnesium-rich dead sea salt. The size of our sea salt molecule is so large that it simply lays on the outer cuticle layer to enhance texture and volume without the ability to penetrate, damage or cause dryness.
Q: What is SeaExtend Silkening Oil Foam and how do I use it?
A: To create SeaExtend Silkening Oil Foam, we started with a base formula of our #1 styling product Aquage Uplifting Foam. We then infused SeaExtend Silkening Oil Treatment into the foam to create a perfect buttery emulsion that delivers the ideal level of body and smoothness! The styling versatility of Silkening Oil Foam is endless! Because you have the weightless, volume-building properties of Uplifting Foam blended with the silkening, smoothing, heat-protecting benefits of Silkening Oil Treatment, this formula is ideal for all wet-to-dry styling options-from natural diffused curls to bodified blow-outs!
Q: What is SeaExtend formula? How does it work?
A: Sea Extend seals color in with an intensive blend of sea botanicals.
Q: What ingredients can be found in Aquage CBD?
A. Aquage CBD – Blend of Algaeplex, 98% pure CBD, Marula Oil and Vegan proteins gives nourishment and strength to the hair and scalp, as well as balance and shine.
98% CBD – sourced vis sustainable practices for scalp balance and heath.
Algaeplex – blend of 8 marine botanicals to nourish and strengthen the hair.
Marula Oil – calms and conditions dry scalp helps smooth hair and seal the cuticle.
Vegan Keratin – smooths and strengthens hair
Fragrance – Fresh, calming and spa infused scent to promote an overall sense of harmony and well being.
Vegan, Cruelty and Sulfate-Free

Not tested on animals